Activate Windows 10 Using Windows 7 and 8 Product Keys Next Month
Microsoft has secretly updated the free Windows 10 upgrade offered through assistive technology will be ended by 31st December 2017. So folks hurry up before Microsoft puts curtain on free upgrade.
Read More Details
Next Article
https://youtu.be/j7SxypblIlw
Display
Microsoft Surface Book comes with 13.5-inch display with a screen resolution up to 3000×2000. The display also supports pen and touch. You can also take advantage of Surface Pen which is claimed to be sensitive enough to detect 1024 different pressure levels. Apple must have taken a note for their next pressure sensitive hardware tech.  PixelSense touchscreen with 6 million pixel which translates into (267 ppi).
There is a dedicated GPU is in the base of the laptop and it will switch to the Skylake integrated GPU when the screen is detached from the base. In order to use the GPU at full throttle you must get the laptop docked.
The display surpasses the 1080p mark which makes it very good for watching HD videos and other graphics consuming apps.This is not a wide screen laptop, it is 3:2 which is not a favorite choice of modern laptops. I believe its more to do with your personal choice than the productivity factor.
Performance
The high end convertible is powered with 6th-generation Intel Core i5 or i7 processor and Nvidia GeForce GPU of the same class. You have an option of 8GB or 16GB of physical memory to keep you in game for multitasking
Storage
Microsoft Surface Book uses a Solid State Drive (SSD) as its main storage device. Please read more about Solid State Disks Performance Factor. In short, SSDs are the fastest storage medium available in the market. Microsoft Surface gives you 128GB, 256GB, 512GB, or 1TB options.
Design
I am in love with the detachable keyboard. Microsoft is calling the technology as Muscle Wire which holds the keyboard and it can be easily detached by just pressing the button.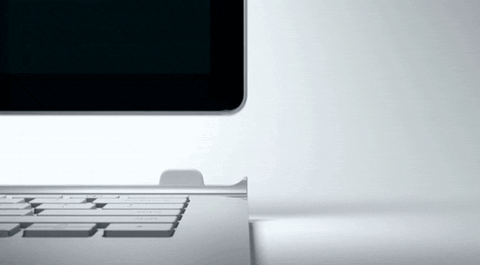 The base of the laptop includes a backlit keyboard which can be separated as I told earlier. It works in Clipboard mode or Canvas mode when detached. Here are the three modes of this convertible.
The laptop also includes 1.6mm key travel and a glass trackpad with 5-point multitouch, and there are two USB 3.0 ports and a full-size SD card slot.
Microsoft Surface Book is sleek, but when compared to other 2-in-1 laptops the Microsoft Surface Book is slightly heavier than the average of 3.08 pounds.
Battery
This laptop has great battery life and can go most of the day without having to be plugged in. Microsoft claims the Book has 12-hour battery life. You should take a note here that running graphic and resource intensive applications can drain your battery faster and may not last for complete 12 hours.
Price
Microsoft Surface Book was compared at the launch with Apple Macbook Pro and it is definitely in league of Apple Macbook Pro. Microsoft Surface Book starting price is $1,499 whereas the MacBook Pro's pricing starts at $1,299. The top model goes up to $2,799 (roughly Rs. 1,82,500)
Overall, Microsoft has done a decent job with their first ever laptop and I am sure that its going to give Apple Macbook Pro a run for its money. Microsoft Surface Book will be launched on October 26.